Features
robust, state of the art beat detection
create sequence markers or clip markers
compatible with the Automate to Sequence function in Premiere Pro
easy beat selection
detect only beats or also other "rhythmically relevant" peaks for more variation
batch manipulation of markers (create, move, delete)
Edit in sync with Music

Editing in sync with music has never been easier. BeatEdit detects the beats of your music and represents them as markers in the Premiere Pro timeline.
Auto-Create Slideshows and Rough Cuts that change to the Beat

Use the beat information to generate fully automatic edits in sync with the music. If you need more control, the beat markers can also be used as guides in your manual editing process. What's more, the automatic edits can be easily tweaked in the timeline.
Full Control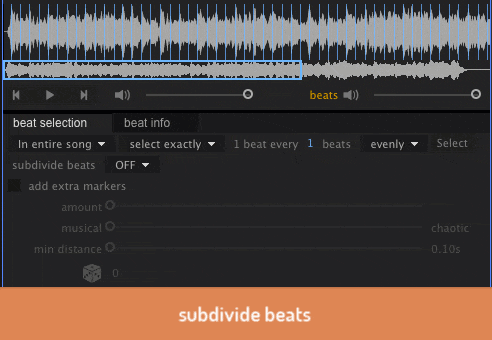 BeatEdit offers detailed controls to select the beats you want to work with. You can subdivide beats to create faster patterns, and select beats very easily. To create more variation, BeatEdit can also create extra markers at locations that are no beats but other rythmically relevant peaks of the music.
New in V2
load music directly from the Premiere Pro Sequence
move markers tool
beat info panel (see bpm, number of selected beats and more)
work area support (create, move or delete markers only within the workarea)
new user interface with resizable sections
support for Adobe Premiere Pro 13.1.5 (CC 2019) and newer
beat at the very beginning of the song is detected properly
performance improvements & bug fixes
Robust Beat Tracking Technology
BeatEdit relies on highly robust beat tracking technologies developed by music research groups around the globe. The beat tracker used (IBT) is developed by the Sound and Music Computing Group at the INESC University of Porto . BeatEdit also relies on the MARSYAS (Music Analysis, Retrieval and Synthesis for Audio Signals) framework developed under the direction of George Tzanetakis, Associate Professor at the University of Victoria.
Limitations
BeatEdit only works with audio files (wav, mp3). It cannot load audio from video clips and also does not take into account any effects or modifications – like rate stretching – that you applied to your audio in the timeline. If you need to work with rate-stretched audio or audio tracks of video files, you need to export them to a wav file before importing them into BeatEdit.
BeatEdit is designed to detect the beats in individual songs, but it cannot process audio files which are lasting for hours – since the entire audio data needs to be loaded into memory during beat detection. If you need to process very long audio files, you have to split those into smaller files and process each of them individually – the maximum length depends on your machine.