TREE VEGETATION v5 ADDON – PROFESSIONAL TOOL FOR TREES, PLANTS, SHRUBS AND ANIMATIONS ON BLENDER
Tree Vegetation is an addon for Blender, compatible with Eevee and Cycles. It contains a big library of diverse and varied plants, trees, shrubs, tropical plants, tree hedges, ornamental plants, garden plants… Thanks to the addon one click is enough to create a realistic plant.
The incredible 4 seasons function allows you to create landscapes under the snow or in summer, but also autumn and spring. It's the most realistic 3d models ever created close to the real ones. They were created using different techniques. Use of HD and PBR textures for incredible renderings in seconds. You can also make animation with branches and leaves. Add more moss to your trees… But above all, this library is optimized for Blender.
And we are still working hard on the project, we will bring new vegetation to life regularly; but also new features, trees and assets.
ALL FUTURE UPDATES WILL BE FREE AND INCLUDED!
What's news in Vegetation v5 ?


Features

Animated tree !
Make the branches of the tree move, but also the leaves thanks to the animation functions! With a few clicks create incredible animations of trees and manage the force of the wind or use the presets included in the addon.
https://www.youtube.com/embed/WyFJMjh-FFA?wmode=opaque

Beautiful and easy interface
An easy-to-learn interface, Built for maximum productivity and rapidity. Without compromising on quality! A dedicated add-on to manage your trees and plants.
Snap tree to ground
Place your trees on the surface of your ground with just one-click!
4 Seasons
This is the most amazing feature! Import each plants and trees in the season you want. 4 times more possibility with incredibly realistic and professional shaders.
– Summer: the tree is bushy; the leaves are green and dense.
– Spring; the leaves are less dense, there are fewer leaves, the color is duller.
– Autumn; the leaves are yellow and translucent.
– Winter: the leaves are…gone (but you can leave a few if you wish) the trunk becomes darker because it is wet, and snow appears on the trunk
Randomize season
Thanks to the "random season" feature each tree will have its own shade.
If you create a forest in Winter and increase the "random season" slider you will have trees from late fall, early winter, mid-winter and late winter. It's the same for all seasons! With just one tree you can create a completely customized and unique forest without thinking all the trees are the same! It's magic!
Image by Foppe 3D
Infinite variation
Every time you import a plant into Blender you get a different 3D model. The size, position and color are different each time. With a single tree model, you can create an entire forest without ever having the same tree twice! That's the beauty of it!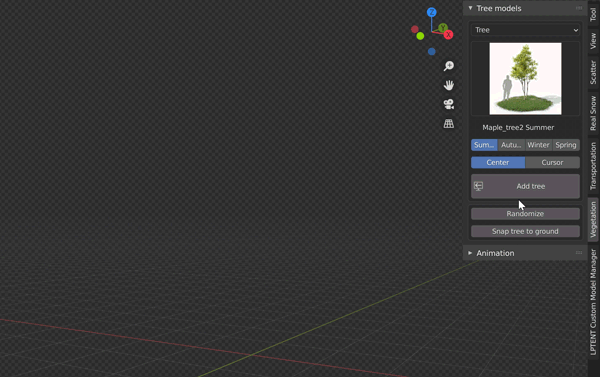 Add moss to your trees
The moss function allows you to add some…moss to the trunk of your trees. A perfect solution to customize your landscape and make your tree unique. It is available in your trunk shader. you can change the size, direction and amount of moss.
Add dirt and moss in your rock
The Rock shader allows you to customize the rocks. add dirt, or moss. adjust the intensity, direction or add snow, it's magic!
Make your own creations
Why would we only use one type of pot with one kind of plant all the time? With the Vegetation addon you can choose your flower pot, and put the plant you want inside. the possibilities become endless!
Highly realistic 3D model
Vegetation trees are top-notch. Models optimized for Blender but with a controlled polygon count. Incredible render and photorealist in seconds. Ideal for archviz, design and other CGartists.
PBR texture ready
PBR textures for Blender: diffuse, Translucent, roughness, normal or bump map, ambient occlusion, opacity with sometimes textures up to 8k!
Vegetation is optimized for Blender and the textures as well. the most visible elements keep a very good quality of rendering. small details are optimized to take as little memory as possible. A perfect combination to have rapid during 3D rendering and incredible quality.
Real size tree
All trees are to scale in Blender! you just have to add your tree and place it in your landscape, the size is realistic.
Optimized for Blender
Providing high-quality trees is easy. With very large textures, lots of polygons. But what good is it if no one can use them with a "basic" computer?