Embroidery Digitizing Software F
ree

An embroidery digitizing software lets you create unique designs, convert patterns to outline stitches and embroider text labels. All these free embroidery digitizing software come with such key features as start and stop, color change, etc. The latest sewing machines support different input file formats. Photo embroidery digitizing software allows you to convert any design into a stitch file.
Top 8 Free Embroidery Digitizing Software
Similar to photo scanning software and photo scanning apps, this type of software allows you to scan the embroidery you create and transfer it onto fabric.
If you are not ready to spend money on a premium package or want to test different software, try using free versions. As a rule, they are provided with limited functions that are suitable mostly for beginners.
Intuitive
Amazon and Azure cloud storage
Several thread catalogs
Photo-realistic 3D preview
Verdict: Embird is an embroidery digitizing software based on a modular design. To access a specific mode or option, you need to purchase the module itself.
Separate modules provide access to such tools like Digitizing, Sfumato Stitch, Cross Stitching, Font Engine and Pre-digitized Alphabets.
If you need a free embroidery digitizer, you can use Embird in the demo mode. Although it has certain limitations, its functionality is enough for digitizing ordinary artworks. The demo mode is available for 2 months, after which you need to upgrade the program to continue using it.
---
Exports files into PNG, JPEG, BMP and TIFF formats
Allows previewing embroidery designs in 3D
Impossible to create new designs
Verdict: My Editor free embroidery software is rather intuitive due to a friendly interface. You can use the program to view and modify files, saving them in various formats.
Along with improved tools for managing and creating finished works, My editor has options that enable you to view and save files. With this free embroidery digitizing software, you can work with NGS files. You can view and save them in various formats for different embroidery machines.
The program comes with extra options that allow you to preview designs with different fabrics, resize and rotate them.
---
Intuitive
Batch export option
Animated stitch-out preview
Verdict: Ink/Stitch is an extension of well-known vector graphics software. This is a free embroidery digitizing software that allows creating embroidery files with the help of an open-source drawing tool. You can also create stitch files from various SVG designs.
It can convert SVG fills into filled stitch areas and convert SVG strokes into zigzags and lines. Besides, Ink/Stitch offers a tool for creating satin columns from paths with two sub-path lines. You can customize SVG path objects for each of the four stitch types.
This software allows you to import the majority of embroidery formats, re-use and adapt them with the help of the Inkscape's path tool. InkStitch has options for managing thread colors and projects.
---
Intuitive
Comes with a great set of basic tools
For small-scale home-based businesses only
Occasional bugs
Verdict: SophieSew free embroidery digitizing software offers an object-oriented approach to design. A user starts with simple elements like images and lines, gradually collecting them into more complex and large designs (running stitches, fill areas). Step by step, the user gets a ready work.
SophieSew features various tools, such as duplication, deletion, rotation, re-sizing, etc. You can use them to enhance individual elements, the entire design or several designs at once.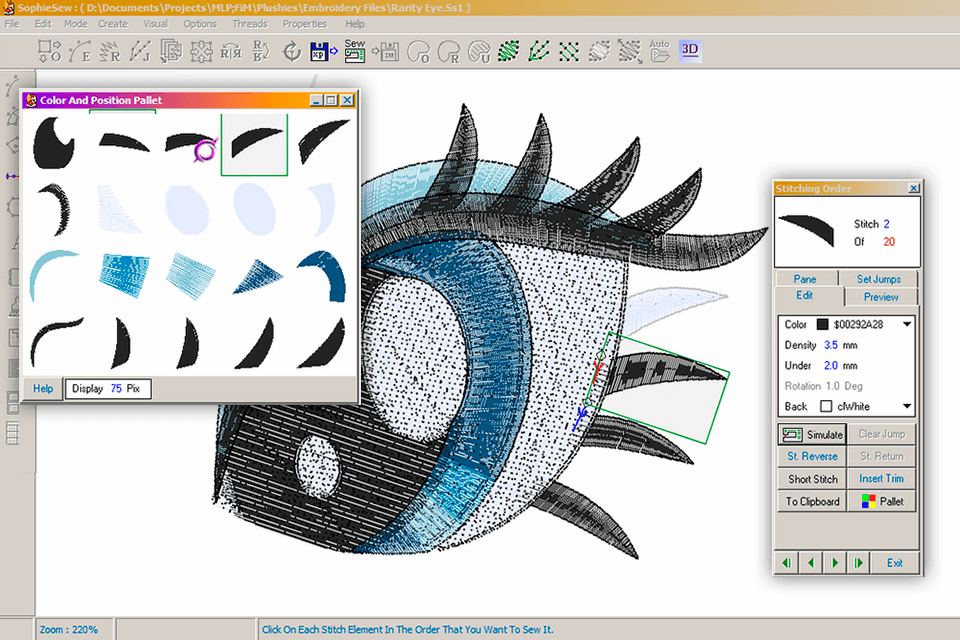 ---
Various options
Useful guides
Suitable for beginners and professionals
High-priced after trial
A bit difficult to use
Verdict: Hatch Embroidery is suitable for beginners and amateurs, as it is designed as an easy-to-use platform. You can use a 30-day free trial option to test the functionality and performance. Hatch Embroidery has many options and tools both for simple and complex designs.
The program is suitable both for novices and advanced digitizers, as it offers manual and automatic digitizing, editing with various layout features, appliqué, resizing, recoloring, multiple hoops, offset contouring, sequencing, monograms, world-class lettering and other functions.